Click here to add your own text
Villa Blubambu
Best choice to stay in Seminyak
Balinese villa in the village Seminyak, situated in a 1250 m2 tropical garden. In the garden are 2 large swimming pools of 4 x 12 meters and 3 x 20 meters (for nice laps), a relax bale and all is surrounded by large trees, plants and flowers creating a quiet and private location.
The main building consists of a very large and tastefully decorated living and dining room at the ground floor for communal use. The interior is Asian minimalist style and creates a warm atmosphere. Through the front and side sliding doors and fans there is always a comfortable temperature available in order to create always the right temperature.
A 32 inch flat screen TV (over 60 channels available via cable, including news, sports and movie channels) + DVD player provides the right entertainment tool for all, but each guesthouse has it's own flatscreen TV + DVD player as well for private viewing. Internet possibilities are free and available for all guests throughout the complex.
Attached but separated by a bar element is the large open kitchen. It is equipped with modern (Italian) appliances. The kitchen top is made of black granite (same for the bar top) and the cabinets are from a local hardwood with dark finish. In this kitchen our staff prepares your morning breakfast. For other meals contact the staff.
All the buildings (main house and guesthouses) have beautiful grey marble floors from Java.
The Villa is operated as a very hospitable bed & breakfast in order to have guests share the wonderful relaxed way of living in Bali and feel like they are at home. For our guests there are 4 large guesthouses available, more details about them can be found on this website.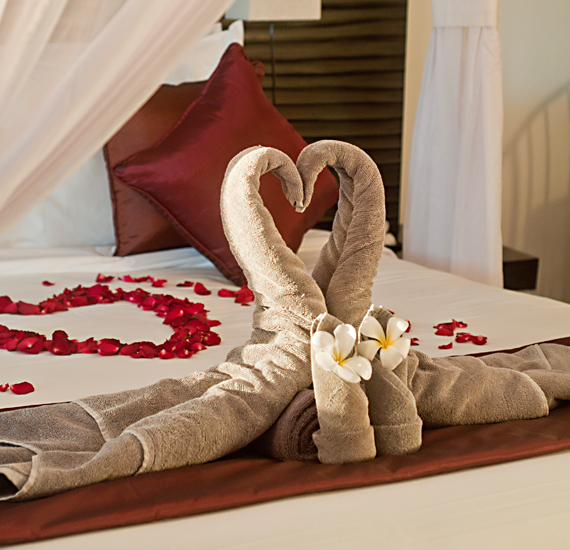 Won
"

Travelers Choice

"

for 5 years in a row!
In the garden of villa Blubambu, located sideways from the main house are 3 large guesthouses. Each guesthouse accommodates 2 persons with a king size bed, in two guesthouses it is possible to place an extra bed for a 3rd person. Those guesthouses are attached to one of the swimming pools with their own private terraces that belong to each guesthouse. These terraces provide a nice shadow during daytime and are a perfect location for a quiet relaxation time, for instance with a good book and cool refreshment.
The 4th guesthouse, the superior one, is the top floor of the main building. This guesthouse accommodates 2 persons with a king size bed and can accommodate an extra 2 persons in the separate room with a sofa/king size bed. It consists of a large bedroom with en-suite bathroom, separate sitting/entertainment room that can also function as 2nd bedroom due to a sofa that can turn into a proper king size bed and the room also has airconditioning and fan. The private verandah offers a private lounge and breakfast area.
All the 4 guesthouses have fans and airconditioning for optimal climate conditions, large king-size beds with very comfortable mattresses, a flat screen TV and DVD player (in the main sitting room you can find a selection of dvd's to borrow for viewing), access to over 60 channels via cable (including major news, movie and sports channels),small refrigerator to keep your drinks and snacks cool, safety box to store your valuables, free flow of cold/hot water and coffee or tea making provisions. There is free wifi connection throughout the complete compound so also inside each guesthouse.
Attached to each large bedroom is a spacious bathroom with the latest in sanitaria. Two guesthouses (Deluxe Twin) have a large outside shower, one (Private Deluxe) has inside shower and bathtub and the Superior Guesthouse has both outdoor shower and indoor shower/bathtub. Also included are large cabinets to store clothes and other luggage. Floor and walls are from the same beautiful grey marble from Java.
Private Deluxe Guesthouse
Villa Blubambu's tropical garden is shaped in a very open way but because of the many trees, plants and flowers it gives a very private and quiet feeling. There is also a fresh water pond with fish and water feature, a typical Indonesian bale for pure relaxation and on-site massages. Two large swimming pools of 4 x 12 and 3 x 20 meters (good for laps), a nice pergola with beautiful wooden table + 8 chairs were breakfast is served. A Jacuzzi with a serene decoration through plants and Buddha statue.  Lounge daybed, 4 single daybeds and one double daybed for a couple as well as two easy movable bean-bags so one can catch sun all the time. There are three sun umbrellas to provide shade. The subtle lightning throughout the garden gives it a fairy tale feeling in the evening. The water in the swimming pools runs through a special filter system so there is hardly any chemical in the water. The depth of the pools is maximum 1.60 meters so not suitable for small children that can not swim. For those the Jacuzzi that is present can be used as a small kiddie pool.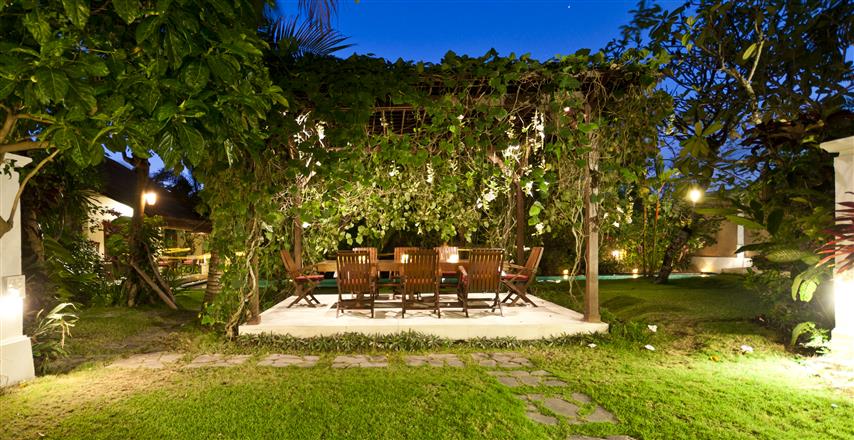 Spa, Tour
&

Other Services
Spa services can be provided in the privacy of your guesthouse or the gazebo in the garden.
One hour massage is only Rp. 150.000 (appr. $ 12). Many services are offered like:
Traditional bodymassage | Aroma therapy massage | Body scrub | Creambath | Facial | Manicure | Pedicure | Reflexology | Footmassage | Hairmask
Just talk to the staff which treatments are suitable for on site or are better taken at the Spa salon. The staff will be happy to make an appointment for you.
Please contact the staf as they can also arrange all kind of tours for you like white water rafting, bicycle trip through rice field and village's, climbing volcano, diving, snorkeling, temple and special site visits, etc.
Other services the staff can provide for you are:
Car and Scooter rental, this can be per day, per week or other period of time.
A prepaid telephone card for Indonesia
Through a laundry service nearby the staff can arrange for your laundry to be done. Just give the laundry to the staff in the morning and it will be returned to you the next day, cleaned and ironed.
You can also contact the staff for dinner reservations, taxi's, special dinner at the villa, wedding arrangements, grocery shopping, etc.
SECURITY
Next to the villa is the security house. Security staff is on post 24/7.
INTERNET
Free wireless wifi internet is available throughout the complete villa complex.
STAFF
Our permanent staff will do anything to please our guests and make your stay as comfortable as possible. They provide your daily breakfast, also clean the villa and guesthouses every day and maintain the garden. If you feel they provided excellent service to your satisfaction, it would be appreciated if you leave them a small tip.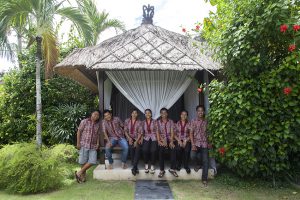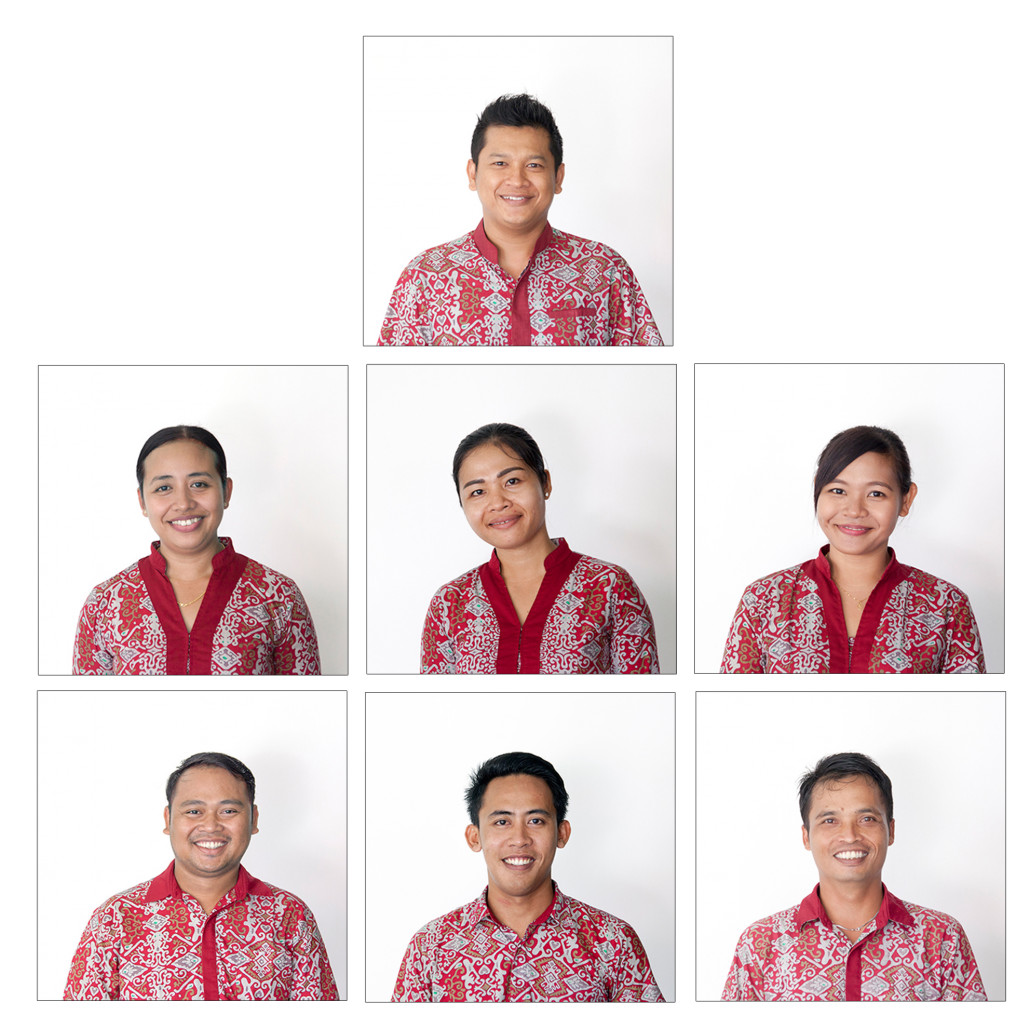 Seminyak is the epicentre of entertainment, dining, fashion and shopping as well as home to world famous boutique hotels and villas. But it still has this special Bali feeling through small temples and ceremonies that nearly take place every day. It is the ultimate destination of choice for all and in particular expats in the Asia Pacific region return regularly to Bali for anything from a short break to spending a season or two. Visitors from around the world come to enjoy the beautiful things that Bali, the island of the gods, has to offer.
Villa Blubambu lies in the centre of the Seminyak hub, but through its special setting provides an oasis of tranquility. Only a short distance away you will find an array of world class restaurants such as Sarong, Mama San, Bambu, Teatro, Merah Putih, Khaima, Gado Gado, Ultimo, Ku De Ta, La Lucciola, Sardine and Metis. There are more good restaurants in the nearby location for different tastes like Mozarella, Bale Bali, Trattoria, etc. and also small but excellent warungs with Indonesian food like Warung Mimpi or Ocha.
The beach (only 5 minutes walk) stretches as far as the eye can see and strolling along the beach at dawn or dusk is one of life's greatest pleasures, the mood and ambience uniquely Balinese. You can regularly see the locals perform their cultural ceremonies and offerings on the beach front. Also watching the sunset with a drink at places like La Placha will be a great experience.
Low Season

Deluxe Guesthouse

IDR 1.870.000

(USD 130)

Superior Guesthouse

IDR 2.300.000

(USD 160)
High Season

Deluxe Guesthouse

IDR 2.155.000

(USD 150)

Superior Guesthouse

IDR 2.585.000

(USD 180)
Peak Season

Deluxe Guesthouse

IDR 2.300.000

(USD 160)

Superior Guesthouse

IDR 2.730.000

(USD 190)
14 Nights or more

10% Discount
Contact now for last minute special deal.
Terms & Conditions
Above mentioned rates are for the year 2016.
Rates are based on 2 persons occupying the guesthouse.
Additional person charge is IDR 435.000 (USD 30) in low season | IDR 500.000 (USD 35) in high season | IDR 575.000 (USD 40) in peak season (include tax, service & daily breakfast).
Our rates for a guesthouse on this private boutique resort in the upmarket Seminyak area are of great consumer value based on the accommodation and service offered.
Rates include local tax & service charges, daily breakfast and welcome drink & cool towel upon arrival.
High season the months July and September.
Peak season August and from 15th December to 10th January.
Check in time from 14:00 hours Bali time.
Check out time 12:00 hours Bali time
Late check-out can be booked, till 6:00 pm half daily rate, after 6:00 pm full daily rate.
Minimum stay requirements:
Low season = 2 nights.
High and peak season = 3 nights.
Bookings are confirmed after 30% of the total amount is received.
The remaining amount needs to be paid minimum 4 weeks prior to arrival.
Down payments are non refundable.
Click here to add your own text